A Luxurious Inn in Paso Robles
Welcome To The Canyon Villa
Nestled among the rolling green hills and vineyards of Paso Robles wine country, The Canyon Villa is destined to win your heart. Our inn will enchant you with its Italian architecture, stunning views, intimate setting, luxurious amenities and world-class cuisine.
Imagine a weekend of tranquil bliss: Stay in one of our four gracefully decorated rooms with breathtaking views. Savor a gourmet three-course breakfast, then enjoy a day of vineyard tours and winery visits. After your tasting adventures, come home to The Canyon Villa and relax in front of a flickering fire while you sip wine and enjoy hors d'oeuvres amid the elegant décor of our great room or enjoy your wine and small plates on our Pergola surrounded by Italian Cypress and twittering birds.
The Canyon Villa offers refined elegance to celebrate a milestone with a loved one, an extended weekend getaway with friends exploring the award-winning Paso Robles wine region or an overnight reprieve on your journey.

The Canyon Villa Reflects the Beauty, the Grace, and Indeed the Very Soul
of West Side Wine Country that is Paso Robles
A Bird's Eye View of The Canyon Villa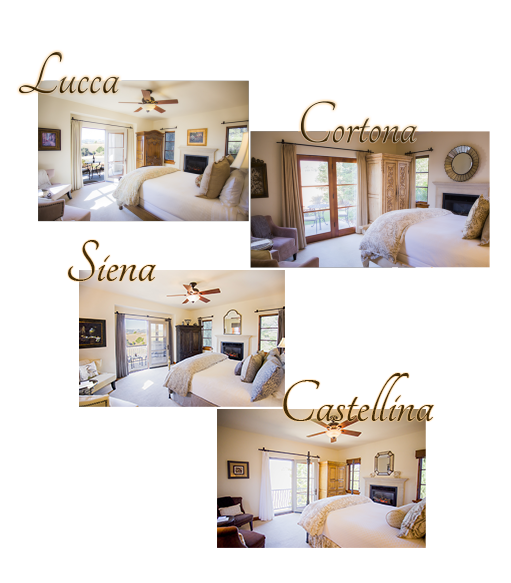 Named after Tuscan villages, each Guest Room is uniquely appointed featuring:
A private balcony or patio
A spacious custom pillow top bed
Central heating and air conditioning
We offer two seating's for our complimentary gourmet breakfast: 8 am or 8:30 am. Breakfast Service is in our Dining Room, outside on the Back Terrace, or at the Pergola (reserved for groups of six or eight). Breakfast Service concludes at 9 am. Understandably, you may prefer to "sleep-in." Please let us know the night before during Wine Hour.
We feature locally grown, organic ingredients whenever possible. Chef Wills attends numerous Farmer's Markets throughout the week to create sumptuous meals. Our breakfast begins with a fresh fruit dish, followed by freshly baked pastries and a savory entrée that changes daily.
In the late afternoon we serve a complimentary tasting of curated Central Coast wines and small plates between 5:30 p.m. and 6:30 p.m. for our registered guests.
We will accommodate food allergies and dietary restrictions only if we are informed at the time of booking.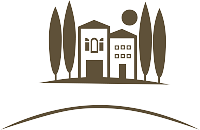 "Thank you so much for such a pleasant stay, entertaining stories, and great food! The Villa is beautiful and views spectacular. A fantastic experience overall."
Christine & Eric
"Your home is beautiful and it made us feel like we were back in Tuscany."
Ann & Vito
"The views, the homemade breakfast and complimentary Wine Hour tasting . . . What a perfect, relaxing vacation. A taste of Italy in California."
Brigit & Ben
"Kath and Wills … You do the usual, unusually well."
Ssus & Terry
"Thank you for all your hospitality. We are most grateful and very likely a bit spoiled."
Paula & Joel
"Your attention to detail and great hospitality are unmatched! We will cherish our memories of staying here for the rest of our lives.
Otto & Loco
"What a wonderful experience at The Canyon Villa. Your graciousness and warmth allowed us to become fast friends. The private dinner Chef Wills prepared was superb at 5 diamond level."
Cindy & Roland
"What a great, relaxing 3 days at The Canyon Villa! The accommodations, the food, the conversation and the friendship are all world class. Flying our state flag during our visit just demonstrates your commitment to going above and beyond."
Loren & Kay
"Thank you for your exceptional hospitality and helping us celebrate our 30th anniversary."
Kathy & Michael
"Loved Sunday Supper! Exquisite food and unforgettably good company. My deepest compliments to Boots & Chef!"
Suzanne
"We arrived relaxed and happy, but we departed even more relaxed and happy!! Thank you for the fabulous hospitality, the evening wine, and THE INCREDIBLE CUISINE!! This is our new happy place."
Patty & Steve
"Thank you so very much for an absolutely perfect weekend. We couldn't figure out what to do for our 50th anniversary and then learned about Canyon Villa. What a treat!"
Barbara & Eddie
"Our 3rd trip to The Canyon Villa only underlies this wonderful place. Your hospitality, attention to detail, excellent (and thoughtful) meals and always great conversation. You have become our 'go-to' California resort!"
Bob & Leslie
"I have enjoyed being in such a beautiful place. The fountain garden is a sanctuary filled with birdsong. Every morsel of the cuisine was superb and Wills enthusiasm infectious."
Andrea