We offer two seating's for our complimentary gourmet breakfast: 8 am or 8:30 am. Breakfast Service is in our Dining Room, outside on the Back Terrace, or at the Pergola (reserved for groups of six or eight). Breakfast Service concludes at 9 am. Understandably, you may prefer to "sleep-in." Please let us know the night before during Wine Hour.
We feature locally grown, organic ingredients whenever possible. Chef Wills attends numerous Farmer's Markets throughout the week to create sumptuous meals. Our breakfast begins with freshly baked pastries, followed by a fresh fruit dish and a savory entrée that changes daily.
We will accommodate food allergies and dietary restrictions only if we are informed at the time of booking.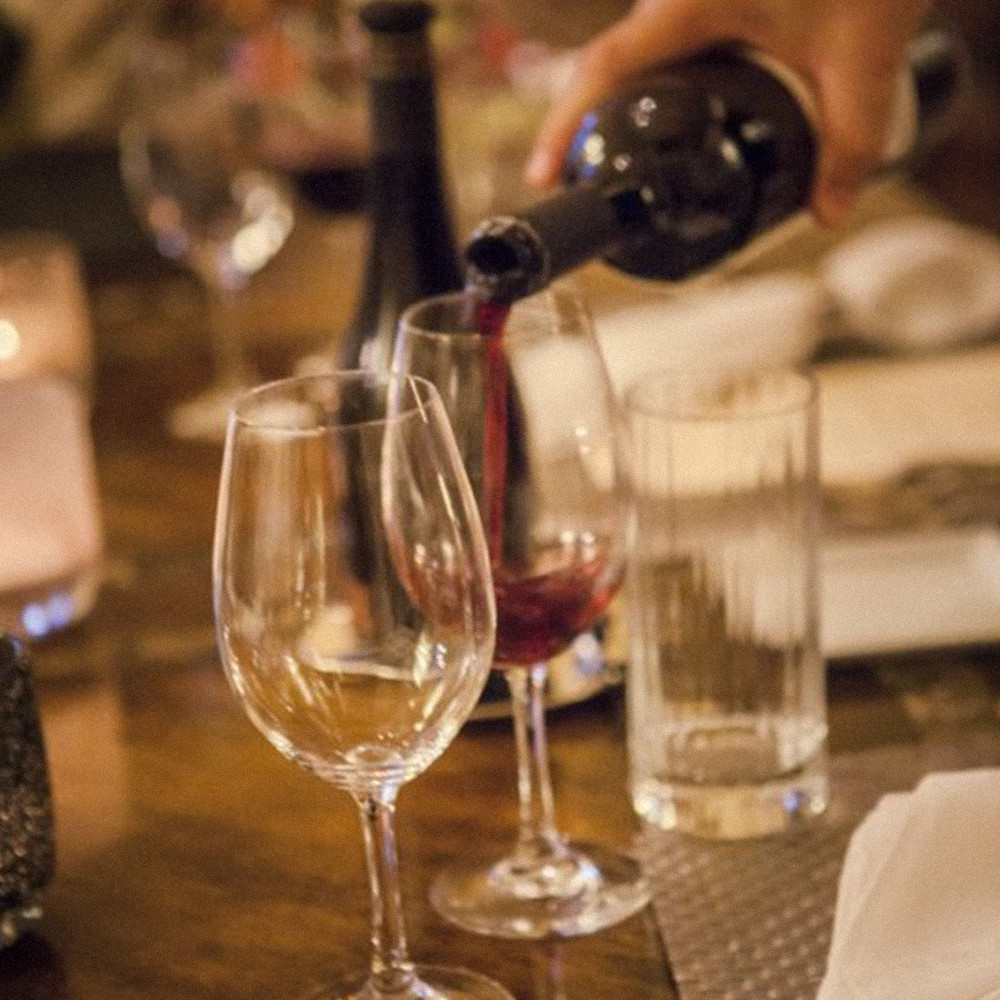 In the late afternoon we serve a tasting of curated Central Coast wines and small plates between 5:30 p.m. and 6:30 p.m. We offer a variety of cheeses, and other appetizers including cured meats and fish, ceviches, olives, crackers and spreads.
At the conclusion of Wine Hour, outside meal service is not permitted on the property.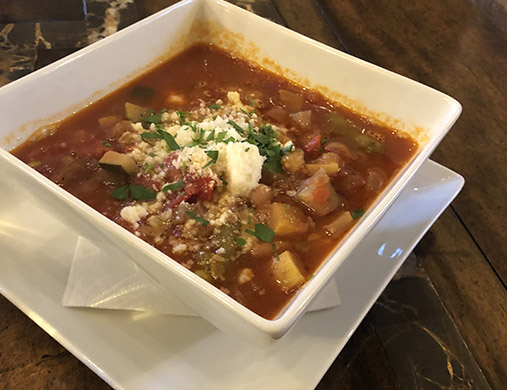 Click Here to See a Recipe Excerpt from Our Upcoming Cookbook
TOMATO SOUP with SMOKED CHICKEN
Ingredients:
1 can San Marzano tomatoes-28 oz can (Cento brand)
1 large white onion, finely chopped
2 TB extra virgin olive oil
¼ tsp coarse salt
3 cloves garlic, minced
2 TB tomato paste (purchase tomato paste in a tube)
½ tsp granulated sugar
½ cup whole grain red bulgur (Bob's Red Mill brand)
5 cups water
Freshly ground pepper and coarse salt to taste
Garnish:
1 smoked/cooked chicken breast, boneless/skinless, cubed ½"
extra virgin olive oil-as needed to drizzle
¼ tsp Pecorino Romano cheese, finely grated per serving
2 TB fresh basil-chiffonade
Procedure:
Coarsely crush the tomatoes with a potato masher in a mixing bowl. Heat the olive oil in a large soup pot over medium heat and add the onion and salt. Cook, stirring often, until the onion is soft and translucent, 8 minutes. Add the garlic and cook, stirring, until fragrant, about one minute.
Add the tomatoes, tomato paste, and sugar and bring to a simmer. Stir often with a rubber spatula ensuring to scrape along the bottom of the pot to prevent scorching. Allow the tomatoes to cook down slightly, about 12 minutes.
Add the bulgur, water, and salt to taste and bring to a boil over a medium heat. Reduce the heat, cover, and simmer 30 to 45 minutes, until the bulgur is soft and the soup thickens. Add pepper and salt to taste. Transfer to a container and place in an ice bath to cool for one hour.
You can store the soup in the refrigerator for up to five days. Be sure to label and date the soup.
Service:
Warm the soup over a medium-low flame, stirring often to prevent scorching until simmering. Thin with additional water if needed. Once heated through, add the smoked/cooked cubed chicken breast. Continue heating for five minutes. Ladle the soup into bowls and garnish with olive oil, Pecorino Romano, and basil (in that order).
Yield: Serves 4
Notes:
This hearty soup is ideal for long winter nights. It is simple to prepare. Omit the chicken and cheese to please vegan diets. Double the ingredients and freeze half for future enjoyment.

The Canyon Villa . . A Three-course Breakfast, Culinary Immersion Classes, Afternoon Cicchetti, Pizza's at the Pergola, Sunday Supper, World Class Cuisine
Discover our Tuscan-inspired Dining Experience only for our registered guests at the Villa on the Hill. Enjoy our signature "Cena di Toscana" our fabulous four-course dinner crafted by Chef Wills, Proprietor and world-class Chef. Call for details.
The Winery Series
@ Sunday Wine Hour
Join us for The Winery Series @ Sunday Wine Hour up-close with a local winery presenting their special wines. Immediately following, sit-down to our complimentary signature Sunday Supper with the winery's ambassador. Enjoy our luxurious accommodations, five-star cuisine and award-winning hospitality. Three-night minimum applies. Please call for details. Blackout dates apply.