A First Glimpse of the Sensual Luxury of The Canyon Villa
Makes the Heart Beat Faster, Awakening the Senses
Like an Italian villa perched on a Tuscan hillside, The Canyon Villa is high above the rolling hills and picturesque neighboring vineyards of the acclaimed west side Paso Robles wine region. The Canyon Villa offers four guest rooms, each uniquely decorated and appointed with luxurious extras such as bubbling spa tubs and plush towels. You can enjoy your gourmet breakfast on the Terrace, under the Pergola or in our dining room. Every afternoon we offer a wine hour from 5:30 p.m. to 6:30 p.m. showcasing Central Coast wines with cicchetti's and local and international cheeses. Enjoy the respite on our front Terrace during sunset or seated on the Back Terrace by the bubbling fountain or under the Pergola which seats eight with vistas of our neighbors' vineyards and olive orchards.
Beyond the elegant setting of our Villa, go hiking through our eleven acres, or bike the back country roads while admiring the dramatic views. Our Insider's Guides, part of our digital welcome applet published exclusively for our guests, can assist your wine touring plans to visit local wineries, to explore cultural venues or to pursue outdoor activities including golf, whale watching, fishing, disc golf and zip-lining. In the evening, enjoy the fabulous local dining scene or with a minimum of 72 hours notice, reserve a world-class dining experience with Chef Wills at the Villa. The Canyon Villa is also the ideal location for day trips to other locales, such as San Simeon Hearst Castle, Cambria's art galleries and Avila's beaches.
Indulge your love of wine or your love for each other. Plan a romantic getaway to Paso Robles Wine Country to appreciate the intimacy, sophistication and luxury of The Canyon Villa.

Sweeping Views, Commanding Sunsets, Surrounded by Luxurious and
Sophisticated Elegance . . . The Canyon Villa a Luxurious Inn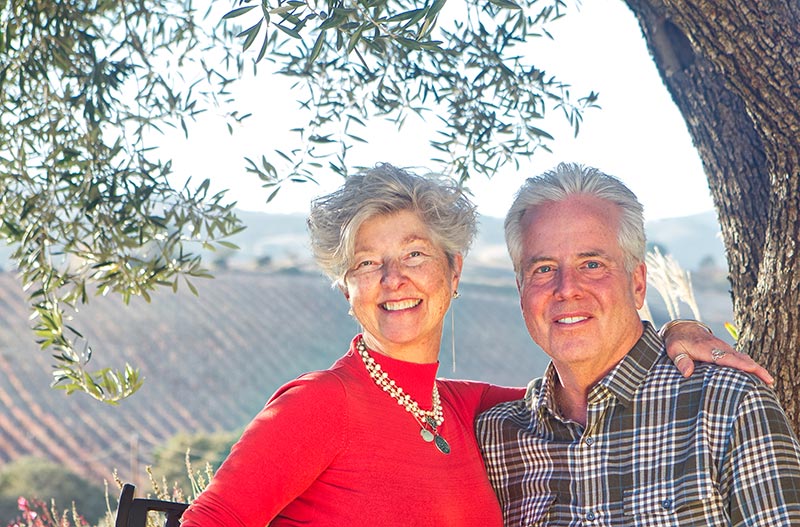 Wills and Kath are the proprietors of The Canyon Villa, A Luxurious Inn, following successful careers in their respective professions.
Both were eager to begin the next chapter of their lives. "We had a vision to create a sophisticated, boutique hotel somewhere in California's Wine Country," said Kath aka "Bootsie." They actively searched for over five years and finally found the perfect property in the acclaimed Paso Robles wine region. "We purchased The Canyon Villa as our home in April 2015," said Wills, "we soon realized that there was an opportunity to create an incomparable traveler's experience."
Wills is the former Executive Chef and Food & Beverage Director at the Playboy Mansion in Los Angeles for three decades. There, he perfected his culinary craft garnering worldwide respect from his peers, earning numerous accolades. He served unsurpassed hospitality experiences to an international clientele.
Katherine worked in the Fashion Industry as a preeminent sales and marketing executive representing global Trend Forecasting Publishers for four decades. Her client roster included automobile concept studios, electronic communication & high-tech manufacturers, leading-edge consumer goods, and high-end retailers. In January 2015, she turned her sights on the hospitality business to work alongside Wills, her husband of 38 years.
The Canyon Villa is designed to provide discriminating traveler's with the Gold Standards of Hospitality: experiencing breathtaking views with exceptional, exquisite accommodations, offering exclusive meals prepared by a world-class Chef, and showcasing awarding-winning wines. The Canyon Villa begins with a warm welcome and ends with a fond farewell.